Stanislaus
California State University, Stanislaus
Campus Profile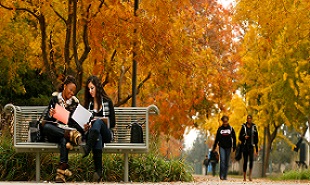 California State University, Stanislaus (Stanislaus State) is located in Central California and has a campus enrollment of over 10,000 students. Stanislaus State blends modern facilities with the pastoral charm of the countryside. The university enjoys an ideal location in the heart of California's Central Valley, a short distance from the San Francisco Bay Area, Monterey, Big Sur, the Sierra Nevada mountains and the governmental hub of Sacramento. The 228-acre campus is located in the city of Turlock; a community that prides itself on its small-town atmosphere, clean living space, excellent schools and low crime rate. The campus itself is a beautiful, park-like setting in an environment conducive to learning. Shaded by hundreds of trees and graced by ponds, trickling streams and waterfalls, the picturesque campus offers moments of peace and relaxation to busy students, faculty, staff and members of the community who actively participate in the learning-centered activities sponsored by the institution.
Stanislaus State is an exceptional public university that, because of its student-friendly size and commitment to excellence, is able to offer all the benefits of a private education. Stanislaus State offers baccalaureate degrees in the liberal arts, sciences, business and education, as well as teaching credentials, master's degree programs, and other professional studies.

Stanislaus State offers many opportunities to enrich the lives of their students both on and around the campus.

Below are samples of what this campus offers: To learn more about Stanislaus State, click on the link below.
- Campus Life - Video: Stanislaus State Virtual Tour
- Clubs and Organizations
- Community Involvement
- Sports and Recreation
Information for Exchange Students
​Campus Information
Academic calendar dates: Click here to view the most recent calendar under "Quick Links" or visit the campus website.
Campus-based fees charged to student: Estimated $648 per semester. Fees for some courses, depending on the course, may be charged (e.g. lab fees). The majority of lecture courses will not require additional fees. Fee amounts and fees charged are subject to change.
Campus health insurance charged to student: No, unless student does not have required coverage.
Housing: Click here to view campus housing information.
Transportation: Click here to view information about transportation.
Admission Criteria
Minimum English proficiency score requirements: Click here to view.
Minimum Grade Point Average (GPA) to apply: 2.00 (based on 4.0 scale) or equivalent.
Impacted (Closed) and Restricted (Limited) Subject Areas
Impacted (Closed) Subject Areas which are not available to exchange students:
Education (all areas); Nursing (NURS).
Restricted (Limited) Subject Areas
where limited places are available and are highly competitive:
Currently there are no restricted subject areas.
Impacted and restricted subject areas are subject to change at any time.