San Francisco
San Francisco State University
Campus Profile
Founded in 1899, San Francisco State University (SF State) is committed to preparing students for international positions in the global marketplace of commerce and ideas. Located in the world-class City of San Francisco, it offers degrees in over 200 academic majors. The campus is located within easy reach of public transportation that connects it with all parts of the city and surrounding areas.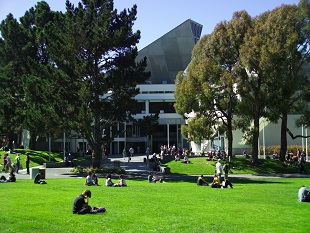 SF State's College of Business is the largest college at the university. The College of Science & Engineering operates three field stations on the San Francisco Bay and coast and works closely with the Academy of Sciences in Golden Gate Park and the San Francisco Zoo. The College of Liberal & Creative Arts comprises 25 departments and prides itself for having produced Academy Award winners, best-selling authors and internationally acclaimed artists and musicians. The College of Health & Social Sciences serves the present and future needs of society in the professional fields associated with health, human and community services. SF State has the only College of Ethnic Studies in the United States.

SF State offers many opportunities to enrich the lives of their students both on and around the campus. Below is a sample of what this campus offers:
- Career Services and Leadership Development
- Clubs and Organizations
- Community Involvement
- Service Learning
- Sports and Recreation (including aquatic program)

Getting around:Click here to learn about public transportation options near the campus and in the city.
Information for Exchange Students
Location description: Located in Northern California in or near a major city (population 300,000 or more)
Campus enrollment: Over 29,000 students
Minimum Grade Point Average (GPA) to apply: 2.75 (based on 4.0 scale) or equivalent.
Campus health insurance charged to student: Yes. Estimate cost is $850 per semester. Cost is subject to change.
Other campus-based fees charged to student: Fees for some courses, depending on the course, may be charged (e.g. lab fees). Fee amounts and fees charged are subject to change.
Minimum English proficiency score requirements: Click here to view.
Academic calendar dates: Click here to view the most recent calendar under "CSU Quick Links" or visit the campus website.
Impacted (Closed) and Restricted (Limited) Subject Areas
Impacted (Closed) Subject Areas which are not available to exchange students
: Apparel/Fashion Design and Merchandising (ADM); Broadcast and Electronic Communication Arts (BECA); Business Management (MGMT); Cinema (CINE); Creative Writing (CW); Design and Industry (DAI); Dietetics and Food Management (DFM); Education (all areas); Health Education (HED); Interior Design (ID); Journalism (JOUR); Nursing (NURS); Social Work (SW); Studio Art (ART).
Restricted (Limited) Subject Areas
where limited places are available and are highly competitive
: Business (ACCT, FIN, HTM, IBUS, ISYS, MKTG); Chemistry (CHEM); Kinesiology (KIN); Music (MUS); Psychology (PSY).
Impacted and restricted subject areas are subject to change at any time.