San Diego State University
Campus Profile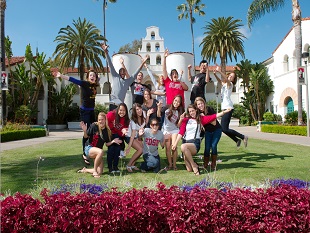 San Diego State University (SDSU) is a major public research institution offering bachelor's degrees in 89 areas, master's degrees in 78 areas and doctorates in 21 areas. The university provides transformative experiences for its students, both inside and outside the classroom. Students participate in research, international experiences, sustainability and entrepreneurship initiatives and a broad range of student life and leadership opportunities. The university's rich campus life features opportunities for students to participate in, and engage with, the creative and performing arts, a Division I athletics program and the vibrant cultural life of the San Diego region.

San Diego State University is classified as a research/doctoral university with a strong international focus. Undergraduate and graduate programs in Bioscience, Computational Biology, Computer Engineering and Science, Climate Change and Sustainability, Renewable Energy Technologies, Geospatial Science, Global Health, Information Technology, Environmental Science and Policy and Public Administration are some programs of note.
Academic Calendar
SDSU operates on a semester system. One semester is equivalent to .50 of an academic year. Two semesters are equal to one academic year. To view academic calendar dates, refer to the campus website or the CSU Campus Calendar found on the CSU Overview webpage located here.
Information for Exchange Students
Location description: Located in Southern California, the campus is situated in San Diego which as a population of approximately 1.36 million people.
Campus enrollment: Over 32,000 students
Students who can apply: Degree-seeking students nominated by exchange partners. Students must be undergraduate students. Graduate student placements may be possible in some disciplines (excluding business) and are based on reciprocity only.
Length of exchange: Students may study for one or two semesters.
Minimum Grade Point Average (GPA) to apply: 2.5 (based on a 4.0 scale) or equivalent for undergraduate students.
Campus health insurance charged to student: Yes. Estimate cost is $570 per semester. Cost is subject to change.
Other campus-based fees charged to student: Yes, approximately $875 per semester. Fees for some courses depending on the course may be charged (e.g. lab fees). Fee amounts and fees charged are subject to change.
Minimum English Proficiency Score Requirements
ETS TOEFL (Internet-based scores): 80
IELTS: 6.5
Graduate Applicant scores may vary. Consult with your home university exchange coordinator.

To determine if a test score is required, refer to the document, "English Language Proficiency Requirements."
Impacted/Closed and Restricted Subject Areas
Impacted/Closed Subject Areas (which are not available to exchange students): Biology (BIOL); Communication (COMM); Education (EDU); Graphic Design (ART); Journalism (JMS); Nursing (NURS); Television, Film and New Media Production (TFM).


Restricted/Limited Subject Areas (limited places are available and are highly competitive): Business (BUS, FIN, MGT, MKT). Business should plan to take courses from non-business areas to supplement their studies.
Impacted and restricted subject areas are subject to change at any time.