San Bernardino
California State University, San Bernardino
Campus Profile
California State University, San Bernardino (CSUSB) is located in the city of San Bernardino, on the foothills of the San Bernardino Mountains inland of Southern California. CSUSB's great location allows easy travel for student to visit other nearby popular, touristic cities in California such as Los Angeles, Palm Springs and San Diego.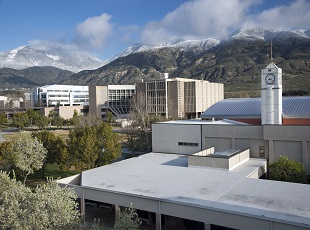 The diverse student population at CSUSB reflects only part of the dynamic diversity that the Inland Empire offers. At CSUSB, the College of Business and Public Administration was ranked among the top four most innovative business schools in the U.S., and within the top 18 in the world according to European CEO Magazine. Furthermore, CSUSB's education ranks in the top 4 percent in the nation and has also received a lot of recognition for the outstanding programs and safety on the campus.

From the exceptional academic programs and motivating high retention rates, to the high rate of students graduating each year, CSUSB offers many academic opportunities for all visiting students.
Information for Exchange Students
Location description: Located in a small/medium city (population 75,000-300,000)
Campus enrollment: Over 20,000 students
Minimum Grade Point Average (GPA) to apply: 2.30 (based on 4.0 scale) or equivalent.
Campus health insurance charged to student: Yes. Estimate cost is $522 for the fall semester and $410 for the spring semester. Annual total is $1230. Cost is subject to change.
Other campus-based fees charged to student: A mandatory orientation fee of $75 is charged to exchange students. Fees for some courses, depending on the course, may be charged (e.g. lab fees and supplies). Estimated fee is $25 per course, when applicable. Fee amounts and fees charged are subject to change.
Minimum English proficiency score requirements: Click here to view.
Academic calendar dates: Click here to view the most recent calendar under "CSU Quick Links" or visit the campus website.
Impacted (Closed) and Restricted (Limited) Subject Areas
Impacted (Closed) Subject Areas
which are not available to exchange students:
Criminal Justice (CJUS); Kinesiology (KINE); Nursing (NURS); Social Work (SW).
Restricted (Limited) Subject Areas where limited places are available and are highly competitive:
Music (MUS).
Impacted and restricted subject areas are subject to change at any time.