Northridge
California State University, Northridge
Campus Profile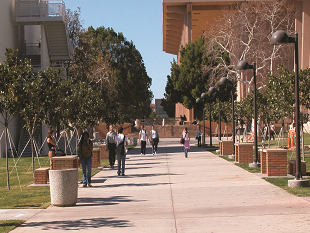 Located in the San Fernando Valley just north of Los Angeles, California State University, Northridge (CSUN) is an academically competitive institution known for its excellent programs and outstanding instructors. Serving more than 42,000 students each year, CSUN is one of the largest universities in the United States, and it has an academic impact to match its size. Money Magazine recently named CSUN one of the top ten values in all of higher education, and the Social Mobility Index ranked CSUN fifth in the nation for elevating its students' economic and social well-being. CSUN's 171 academic programs and engaged centers enjoy international recognition for excellence. CSUN currently partners with more than 100 institutions of higher education in 22 countries around the globe and attracts one of the largest international student populations of any university in the United States. .

Situated on a 356-acre park-like setting, the campus features modern educational buildings and world-class Gold-certified performing arts and recreational facilities recognized as among the best in the country. CSUN is a welcoming university that champions accessibility, academic excellence, and student success.

CSUN offers many opportunities to enrich the lives of their students both on and around the campus. Below is a sample of what this campus offers:
- Campus Life
- Clubs and Organizations
- Community Involvement
- Outdoor Adventures
- Sports and Recreation (with Aquatic Program)
Information for Exchange Students
Location description: Located in Southern California in or near a small/medium city (population 75,000-300,000)
Campus enrollment: Over 39,000 students
Minimum Grade Point Average (GPA) to apply: 2.00 (based on 4.0 scale) or equivalent.
Campus health insurance charged to student: $1,000
Other campus-based fees charged to student: Fees for some courses, depending on the course, may be charged (e.g. lab fees). Fee amounts and fees charged are subject to change.
Minimum English proficiency score requirements: Click here to view.
Academic calendar dates: Click here to view the most recent calendar under "CSU Quick Links" or visit the campus website.
Impacted (Closed) and Restricted (Limited) Subject Areas
Impacted (Closed) Subject Areas which are not available to exchange students:
Business Administration (ACCT, BLAW, BUS, FIN, IS, MGT, MKT SCM, SOM); Cinema and Television Arts (CTVA); Education (all areas); Engineering (all areas - AE, AM, CE, CM, ECE, ME, MSE); Kinesiology (KIN); Music (MUS); Nursing (NURS); Psychology (PSY); Radiological Sciences (HSCI).
Restricted (Limited) Subject Areas where limited places are available and are highly competitive
: Currently, there are no restricted subject areas.
Impacted and restricted subject areas are subject to change at any time.