California State University, Monterey Bay
Campus Profile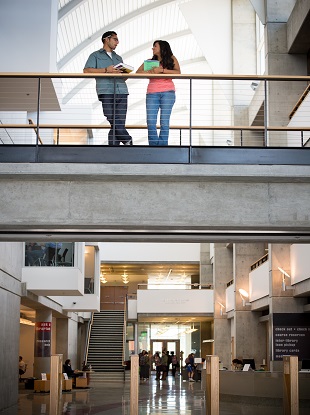 California State University, Monterey Bay (CSUMB), located within walking distance to the shores of the beautiful Monterey Bay, provides an extraordinary opportunity to learn on a residential campus. CSUMB students receive personal attention in small classes while pursuing degrees in 23 undergraduate and six graduate majors. CSUMB faculty and staff continue to build and explore innovative ways to meet the needs of a new generation of students while simultaneously powering the Monterey County economy.
With an uncomprising commitment to the success of every student, CSUMB takes advantage of its intimate overall enrollment (about 7,500 students), small class sizes and talented teaching faculty to help students achieve their objectives. The faculty includes an American Book Award winner, three Fulbright Scholars, a MacArthur Fellow and numerous other grant and award winners. Along with CSUMB's excellence in instruction, faculty members dedicate themselves to mentoring students, and national researchers have recognized CSUMB for its focus on student learning. CSUMB hosts a diverse student body comprising of 5% international students from all over the world, and 95% American students who come from varied cultural backgrounds, promoting a welcoming and dynamic atmosphere. CSUMB's commitment to maintaining the highest standards in higher education, combined with the stunning natural beauty of its environment, creates an unparalleled student experience.
Academic Calendar
CSUMB operates on a semester system. One semester is equivalent to .50 of an academic year. Two semesters are equal to one academic year. To view academic calendar dates, refer to the campus website at csumb.edu/academic-calendar or the CSU Campus Calendar found on the CSU Overview webpage located here.
Information for Exchange Students
Location description: Located in Central California in or near a small/medium city (population 75,000-300,000)
Campus enrollment: Over 7,000 students
Students who can apply: Degree-seeking students nominated by exchange partners. Students must be undergraduate students or graduate students who are willing to accept an undergraduate placement. Graduate student placements are not available at this campus.
Length of Exchange: Students may study for one or two semesters.
Minimum Grade Point Average (GPA) to apply: 2.00 (based on 4.0 scale) or equivalent.
Campus health insurance charged to student: Yes. Estimate cost is $500 per semester. Cost is subject to change.
Other campus-based fees charged to student: Fees for some courses depending on the course may be charged (e.g. lab fees). Fee amounts and fees charged are subject to change.
Minimum English Proficiency Score Requirements
ETS TOEFL (Internet-based scores): 61

IELTS: 6.0
To determine if a test score is required, refer to the document, "English Language Proficiency Requirements."
Impacted/Closed and Restricted Subject Areas
Impacted/Closed Subject Areas (which are not available to exchange students): Nursing (NURS).


Restricted/Limited Subject Areas (limited places are available and are highly competitive): Currently, there are no restricted subject areas.
Impacted and restricted subject areas are subject to change at any time.