Monterey Bay
California State University, Monterey Bay
Campus Profile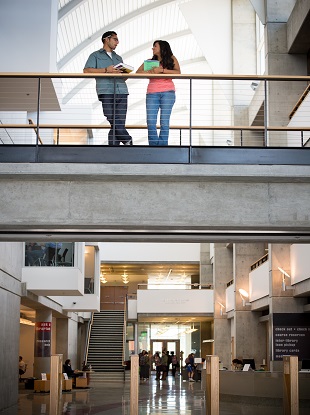 California State University, Monterey Bay (CSUMB), located within walking distance to the shores of the beautiful Monterey Bay, provides an extraordinary opportunity to learn on a residential campus. CSUMB students receive personal attention in small classes while pursuing their degrees. CSUMB faculty and staff continue to build and explore innovative ways to meet the needs of a new generation of students while simultaneously powering the Monterey County economy.
With an uncomprising commitment to the success of every student, CSUMB takes advantage of its intimate overall enrollment (about 7,500 students), small class sizes and talented teaching faculty to help students achieve their objectives. The faculty includes an American Book Award winner, three Fulbright Scholars, a MacArthur Fellow and numerous other grant and award winners. Along with CSUMB's excellence in instruction, faculty members dedicate themselves to mentoring students, and national researchers have recognized CSUMB for its focus on student learning. CSUMB's commitment to maintaining the highest standards in higher education, combined with the stunning natural beauty of its environment, creates an unparalleled student experience.

Highlighted areas that are available to exchange students include Marine Science, Sustainable Hospitality Management, Cinematic Arts and Technology, Environmental Science, and Technology and Policy. This campus also offers service learning, undergraduate research and internship courses.

CSUMB offers many opportunities to enrich the lives of their students both on and around the campus. Below is a sample of what this campus offers:
- Clubs and Organizations
- Community Involvement
- Outdoor Adventures
- Sports and Recreation

Getting around: With a Student ID Card, CSUMB students ride local public buses for free! Grocery stores, restaurants and nightlife are a short bus ride from the campus. CSUMB also offers carsharing, rental bikes and/or motorized scooters.

For more information about CSUMB, click on the link below.
- Video: CSUMB Overview
Information for Exchange Students
Location description: Located in Central California in or near a small/medium city (population 75,000-300,000)
Campus enrollment: Over 7,600 students
Minimum Grade Point Average (GPA) to apply: 2.00 (based on 4.0 scale) or equivalent.
Campus health insurance charged to student: Yes. Estimate cost is $600 per semester. Cost is subject to change.
Other campus-based fees charged to student: $250. Fees for some courses, depending on the course, may be charged (e.g. lab fees). Fee amounts and fees charged are subject to change.
Minimum English proficiency score requirements: Click here to view.
Academic calendar dates: Click here to view the most recent calendar under "CSU Quick Links" or visit the campus website..
Impacted (Closed) and Restricted (Limited) Subject Areas
Impacted (Closed) Subject Areas which are not available to exchange students:
Nursing (NURS).
Restricted (Limited) Subject Areas which limited places are available and are highly competitive:
Currently, there are no restricted subject areas.
Impacted and restricted subject areas are subject to change at any time.