Maritime Academy
California State University Maritime Academy
Campus Profile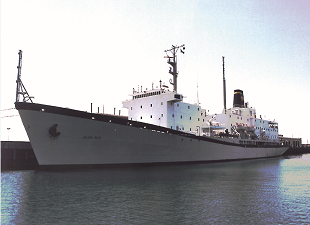 California State University Maritime Academy (Cal Maritime) is located in Northern California and has a campus enrollment of approximately 1,100 students. Cal Maritime is located in Vallejo, on the San Francisco Bay. Cal Maritime is the only degree-granting maritime academy on the West Coast, and is a small, structured and focused campus providing a high-quality practical education. Focusing on marine transportation, engineering, global business, and international policy. Cal Maritime students study one of six majors, and students are generally very focused on their chosen fields. As an example, students in the Maritime Policy and Management Department develop: 1) the written and oral communication and critical thinking skills necessary to succeed; 2) a practical balance of theoretical knowledge, experiential learning, strong ethical values and global leadership skills and 3) the ability to apply the knowledge, values and skills to the needs of international business, non-profit organizations and government agencies.

With an average class size of 23 students, excellent faculty, a supportive small school atmosphere and a high post-graduation rate of immediate employment, Cal Maritime is recognized as one to the top choices in U.S. higher education.
This campus is open to a select number of exchange students with demonstrated interest in maritime affairs in the fields of engineering, international business and global studies. Exchange students may also take subjects from other areas in which prerequisites have been met, subject to availability. Exchange applicants may be subject to an interview via Skype as part of the selection process.

Cal Maritime offers many opportunities to enrich the lives of their students both on and around the campus.

Below are sample of what this campus offers: To learn more about Cal Maritime, click on the links below.
- Community Involvement -Video: Cal Maritime Overview
- Service Learning -Video: Cal Maritime Virtual Tour
Information for Exchange Students
​Campus Information
Academic calendar dates: Click here to view the most recent calendar under "Quick Links" or visit the campus website.
Campus-based fees charged to student: Fees for some courses, depending on the course, may be charged (e.g. lab fees).
The majority of lecture courses will not require additional fees. Fee amounts and fees charged are subject to change.
Campus health insurance charged to student: Cost provided upon request.
Housing: Click here to view campus housing information.
Transportation: Click here to view information about sustainable transportation.
Admission Criteria
​
Minimum English proficiency score requirements: Click here to view.
Minimum Grade Point Average (GPA) to apply: 2.50 (based on 4.0 scale) or equivalent.
Impacted (Closed) and Restricted (Limited) Subject Areas
Impacted (Closed) Subject Areas which are not available to exchange students:
Cruise (CRU); Deck Labs (DL); Firefighting (FF); Naval Science (NSC).
Restricted (Limited) Subject Areas limited places are available and are highly competitive:
Business. Note that this campus is restricted to students who wish to study Global Studies and International Business with demonstrated interest in maritime affairs. Applicants may be subject to an interview on Skype.
Impacted and restricted subject areas are subject to change at any time.