Los Angeles
California State University, Los Angeles
Campus Profile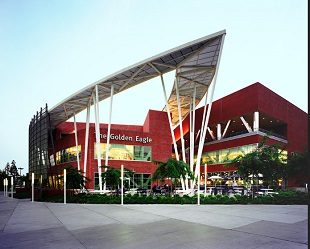 California State University, Los Angeles (Cal State LA) is located in Southern California and has a campus enrollment of over 27,000 students. Cal State LA is located in the city of Los Angeles, on a 175-acre urban campus at the heart of the civic and cultural activities of California's largest city. Los Angeles has the distinction of being the entertainment capital of the world, at the center of the film, TV, and record industries and central to Pacific Rim economic and cultural activity. Two major freeways, several bus systems and a commuter rail station located on campus grant students easy access to nearby mountains, beaches, museums, cultural centers and major sports centers.

Students study with award-winning faculty through 115 degree programs and 60 majors in six colleges. Cal State LA's Business and Engineering programs remain among the nation's top undergraduate programs. Cal State LA's culturally diverse community exemplifies the city's rich history and promotes multiculturalism and diversity.

Cal State LA offers many opportunities to enrich the lives of their students both on and around the campus.

Below are samples of what the campus offers: To learn more about Cal State LA, click on the link below.
- Campus Life -Video: Cal State LA Overview
- Clubs and Organizations
- Recreation
Information for Exchange Students
​Campus Information
Academic calendar dates: Click here to view the most recent calendar under "Quick Links" or visit the campus website.
Campus-based fees charged to student: Approximately $510 per semester is charged. Fees for some courses, depending on the course, may be charged (e.g. lab fees). The majority of lecture courses will not require additional fees. Fee amounts and fees charged are subject to change.
Campus health insurance charged to student: Estimated cost is $600 for the fall semester and $844 for the spring semester. Annual total is $1446. Cost is subject to change.
Housing: Click here to view campus housing information.
Transportation: Click here to view information about transportation.
Admission Criteria
Minimum English proficiency score requirements: Click here to view.
Minimum Grade Point Average (GPA) to apply: 2.50 (based on 4.0 scale) or equivalent.
Impacted (Closed) and Restricted (Limited) Subject Areas
Impacted (Closed) Subject Areas which are not available to exchange students:
Biology (BIOL): Business Administration (ACCT, MGMT, MKT); Criminal Justice (CRIM): Education (all areas); Nursing (NURS); Pscychology (PSY); Social Work (SW).
Restricted (Limited) Subject Areas where limited places are available and are highly competitive
:Television, Film and Media Studies (TVF).
Impacted and restricted subject areas are subject to change at any time.