Long Beach
California State University, Long Beach
Campus Profile
California State University of Long Beach (CSULB) is a teaching-intensive, research-driven university that emphasizes student engagement, scholarly and creative achievement, civic participation and global perspectives. Campus internationalization is a key priority for the university, and the variety and scope of international curricular offerings are continuously broadened and deepened. CSULB students are exposed to a global perspective through a wide variety of curricular and extracurricular learning opportunities. Faculty and staff are encouraged and supported for internationally-related teaching and research.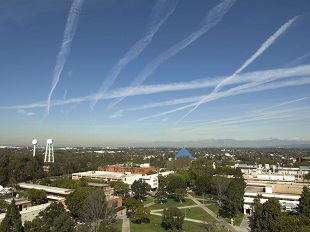 CSULB's 322-acre campus is designed to encourage student involvement and success. The eight colleges of CSULB include the College of the Arts, Liberal Arts, Business, Engineering, Education, Natural Sciences and Mathematics, Health and Human Services and Continuing and Professional Education. Eighty-six buildings housing 66 academic programs and over 300 major options harmonize the learning community with the master planned architecture, unique landscape and safe environment. Specialized instruction facilities support the sciences, engineering, business, nursing, computer studies, education, fine arts, research centers and more.

Outstanding performance venues include the Carpenter Performing Arts Center, Martha Knoebel Dance Center and the Bob Cole Conservatory of Music Daniel Recital Hall. Athletic competitions and major athletic events are offered in the Walter Pyramid, while cultural and educational programs are the focus of the Earl Burns Miller Japanese Garden. Student activities and organizations are housed in the University Student Union, which is located in the center of campus to best serve its community. A newly opened Student Wellness and Recreation Center, a 126,500-square-foot, state-of-the-art recreation facility, is the hub for recreational activities, intramural Sports, fitness and wellness services.

CSULB offers many opportunities to enrich the lives of their students both on and around the campus. Below is a sample of the campus offers:
- Clubs and Organizations
- Service Learning
- Sports and Recreation (with aquatic center)

Getting around: Many students take the public bus from the campus to other parts of Long Beach and the greater LA area. CSULB students get a discounted rate off regular bus fares. Click here for more information about transportation.
Information for Exchange Students
Location description: Located in Southern California in or near a small/medium city (population 75,000-300,000)
Campus enrollment: Over 37,000 students
Minimum Grade Point Average (GPA) to apply: 2.00 (based on 4.0 scale) or equivalent.
Campus health insurance charged to student: Yes. Estimate cost is $600 per semester. Cost is subject to change.
Other campus-based fees charged to student: Fees for some courses, depending on the course, may be charged (e.g. lab fees). Fee amounts and fees charged are subject to change.
Minimum English proficiency score requirements: Click here to view.
Academic calendar dates: Click here to view the most recent calendar under "CSU Quick Links" or visit the campus website.
Impacted (Closed) and Restricted (Limited) Subject Areas
Impacted (Closed) Subject Areas
which are not available to exchange students:
Athletics (ATHL); Education (all areas); Film and Electronic Arts (FEA); Nursing (NRSG); Social Work (SW).
Restricted (Limited) Subject Areas where limited places are available and are highly competitive:
Biological Sciences (BIOL); Business (ACCT, CBA, MGMT, MKTG, FIN, HRM, IS); Chemistry and Biochemistry (CHEM); Child Development and Family Studies (CDFS); Fashion Merchandising and Design (FMD); Fine Arts/Graphic Design (ART); Fine Arts/Interior Design (DESN); Industrial Design (DESN); Journalism (JOUR); Linguistics (LING); Music (MUS); Nutrition and Dietetics (NUTR).
Impacted and restricted subject areas are subject to change at any time.