Humboldt State University
Campus Profile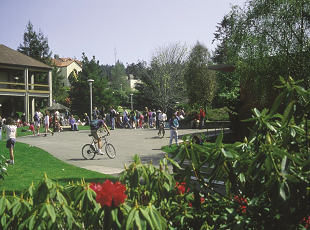 Humboldt State University (HSU), located in Arcata, California with a population of 25,000 (including the community and HSU students), is the northernmost CSU campus. As an international student, you can explore this unique and richly diverse area while enjoying life in a vibrant college town located on the northwestern California coast. HSU's geographical setting, safe campus and academically excellent programs make it one of the most appealing schools in California.

HSU is renowned nationally and internationally for its academic excellence, intensive research and unique programs. With a wide range of undergraduate and graduate programs, HSU offers outstanding natural science and resources programs and excels in the areas of business, humanities and liberal arts. HSU also prides itself in small class sizes, allowing students to receive personalized attention and support.
Academic Calendar
HSU operates on a semester system. One semester is equivalent to .50 of an academic year. Two semesters are equal to one academic year. To view academic calendar dates, refer to the campus website or the CSU Campus Calendar found on the CSU Overview webpage located here.
Information for Exchange Students
Location description: Located in Northern California in or near a small town (population 5,000-25,000)
Campus enrollment: Over 8,000 students
Students who can apply: Degree-seeking students nominated by exchange partners. Students must be undergraduate students or graduate students who are willing to accept an undergraduate placement. Graduate student placements may be possible in some disciplines (excluding business) and are based on reciprocity only.
Length of exchange: Students may study for one or two semesters.
Minimum Grade Point Average (GPA) to apply: 2.00 (based on 4.0 scale) or equivalent.
Campus health insurance charged to student: Yes. Estimate cost is $450 per semester. Cost is subject to change.
Other campus-based fees charged to student: Yes, student ID card of $5.00 is charged. Fees for some courses depending on the course may be charged (e.g. lab fees). Fee amounts and fees charged are subject to change.
Minimum English Proficiency Score Requirements
ETS TOEFL (Internet-based scores): 71
IELTS: 6.0
Graduate Applicant scores may vary. Consult with your home university exchange coordinator.

To determine if a test score is required, refer to the document, "English Language Proficiency Requirements."
Impacted/Closed and Restricted Subject Areas
Impacted/Closed Subject Areas (which are not available to exchange students): Education (EDL, EED, SED).


Restricted/Limited Subject Areas (limited places are available and are highly competitive): Environmental Resources Engineering (ERE).
Impacted and restricted subject areas subject to change at any time.