California State University, Fullerton
Campus Profile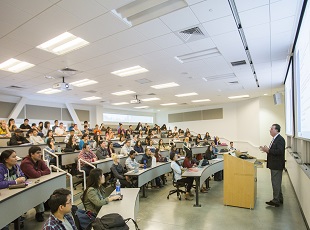 California State University, Fullerton (CSUF) is a major regional university located in north Orange County. Eight colleges offer more than 100 undergraduate and graduate degree programs, including doctorates in education and nursing practice. Impressive campus facilities include the Mihaylo College of Business and Economics, a beautiful 95,000-square-foot Student Recreation Center, one of California's leading university performing arts facilities, well-equipped laboratories and state-of-the-art classrooms, a picturesque 26-acre arboretum and a new residence hall complex that includes a stellar dining facility. CSUF's location offers the resources of a dynamic, flourishing area that includes Orange County, the Inland Empire and metropolitan Los Angeles.
Academic Calendar
CSU Fullerton operates on a semester system. One semester is equivalent to .50 of an academic year. Two semesters are equal to one academic year. To view academic calendar dates, refer to the campus website or the CSU Campus Calendar found on the CSU Overview webpage located here.
Information for Exchange Students
Location description: Located in Southern California in or near small/medium city (population 75,000-300,000)
Campus enrollment: Over 38,000 students
Students who can apply: Degree-seeking students nominated by exchange partners. Students must be undergraduate students or graduate students who are willing to accept an undergraduate placement. Graduate student placements may be possible in some disciplines (excluding business) and are based on reciprocity only.
Length of exchange: Students may study for one or two semesters.
Minimum Grade Point Average (GPA) to apply: 2.00 (based on 4.0 scale) or equivalent.
Campus health insurance charged to student: Yes. Estimate cost is $800 per semester. Cost is subject to change.
Other campus-based fees charged to student: Fees for some courses depending on the course may be charged (e.g. lab fees). Fee amounts and fees charged are subject to change.
Minimum English Proficiency Score Requirements
ETS TOEFL (Internet-based scores): 61
IELTS: 5.5
Graduate Applicant scores may vary. Consult with your home university exchange coordinator.

To determine if a test score is required, refer to the document, "English Language Proficiency Requirements."
Impacted/Closed and Restricted Subject Areas
Impacted/Closed Subject Areas (which are not available to exchange students): Education (all areas); Nursing (NURS) (clinical courses).


Restricted/Limited Subject Areas (limited places are available and are highly competitive): Arts/Graphic Design (ART); Business Administration (ACCT, BUAD, FIN, MGT, ISDS, MKTG); Cinema and Television Arts (CTVA); Communications (COMM); Engineering (ECS); Nursing (non-clinical lecture courses) (NURS); Theatre (THTR). Students interested in taking subjects in these areas must plan to take subjects outside of these areas to supplement their studies.
Impacted and restricted subject areas are subject to change at any time.