California State University, Channel Islands
Campus Profile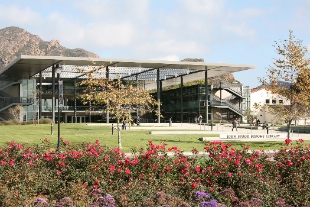 California State University Channel Islands
(CSUCI) is located between Santa Barbara and Los Angeles in Camarillo, California, just north of the Santa Monica Mountain range. CSUCI is a student-centered, four-year, public university known for its interdisciplinary, multicultural and international perspecti
ves and its emphasis on experiential and service learning.
At CSUCI, students benefit from individual attention, up-to-date technology and classroom instruction augmented by stellar faculty research. The University promotes partnerships with the community and works to build pathways to college for Ventura County residents. CSUCI is a responsible citizen of the region and actively pursues sustainable and energy-efficient practices. CSUCI's strong academic programs focus on liberal studies, sciences and business.
Academic Calendar
CSUCI operates on a semester system. One semester is equivalent to .50 of an academic year. Two semesters are equal to one academic year. To view academic calendar dates, refer to the campus website or the CSU Campus Calendar found on the CSU Overview webpage located here.
Length of Exchange
Students may study for one or two semesters.
Fast Facts
Location description: Located in Southern California in or near small/medium city (population 75,000-300,000)
Campus enrollment: Over 6,000 students
Students who can apply: Degree-seeking students nominated by exchange partners. Students must be undergraduate students or graduate students who are willing to accept an undergraduate placement. Graduate student placements are not available at this campus.
Minimum English Proficiency Score Requirements
Undergraduate applicants and graduate applicants applying for an undergraduate placement:
ETS TOEFL (Internet-based scores): 61
IELTS: 6.0
To determine if a test score is required, refer to the document, "English Language Proficiency Requirements."
Impacted/Closed and Restricted Subject Areas
Impacted/Closed Subject Areas (which are not available to exchange students): Nursing (NRS).


Restricted/Limited Subject Areas (limited places are available and are highly competitive): Business (BUS, FIN, MGT, MKT).
Impacted and restricted subject areas are subject to change at any time.